Jump To:
So, you're looking to bring a new pet into your life. This is an exciting time, yet it does require quite a bit of work in advance to ensure you do it right. Before you start looking for the perfect kitty, it's best to learn how to adopt a cat correctly, so you don't face any preventable mishaps along the way.
Not only must you prepare yourself, but your home, family members, and finances, too. With the guide below, you can develop informed expectations for each of these facets of the adoption process and how to make your new cat comfortable when it's time to come home.
How Do You adopt a cat for the first time?
Adopting a cat requires an extensive amount of research, along with personal and home preparation. If you haven't owned a pet before, it's easy to underestimate the level of responsibility you're taking on.
Here are a few crucial steps you can take to ensure you've set the right expectations for yourself and your family before welcoming your new cat.
Family Planning for Your New Cat
When it comes to planning for your new kitten or an adult cat, it's crucial that part of your "personal and home preparation" is driven by family planning. In fact, approximately 57% (522 out of 910 surveyed) of cat and dog owners agreed that discussing the matter with your family members is a critical part of bringing a new pet home.
Key parts of family planning include:
Determining if your kids are ready for a pet. Children cannot quite exercise the same level of awareness as adults concerning the consequences of misbehavior in interactions with the new cat. Plus, kids face a higher risk of accidental injury, including bites, scratches, and more. Make sure your kids are responsible and old enough to handle living with the new kitty.

Make sure you and your partner are on the same page. Don't get blindsided by all the potential ways a new cat might affect you and your partner's relationship. It's best to discuss the potential of losing free time together, how to budget spending money for date nights vs. pet care, and other added responsibilities.

Note: The positives of raising a cat together outweigh the negatives. Many couples refer to newly adopted pets as "practice babies" since they require you two to bond on a much stronger, more intimate level. You'll develop new methods of communication and teamwork, too, as long as you lay the foundation described above, first.

Get the house ready. This is the final step of family planning when you're getting ready to bring a new kitty home. Look around the house for any possible hazards or spots where your new cat might slip outside (i.e., unsecured windows, broken gates outside, doors that swing open, etc.). Make sure these issues are remedied before you welcome your fur-baby home.
Choose Your Preferred Adoption Site
Once you've completed the family planning phase, you can officially start the adoption process. This phase begins with choosing a reputable adoption service or directory through which you can select your new feline family member. The best places to find a cat include:
The Shelter Project, Adopt
Once you've completed the family planning phase, you can officially start the adoption process. This phase begins with choosing a reputable adoption service or directory through which you can select your new feline family member. The best places to find a cat include:
How Much Money Is It to Adopt a Cat?
One of the most common areas where new pet parents get tripped up is with the cost of their cat or dog. Approximately 17% of aspiring pet owners underestimate the costs by as much as 50% (less than $500)! The average cost of a pet is usually over $1,000 in the first year; yet, the majority of people only budget for somewhere between $500-1,000.
Over your kitty's lifetime, this estimation can grow quite rapidly, getting up to $21,917-31,000 over the cat's lifetime. Since the average cat can live up to 16 years, this comes out to about $1,370-1,938, depending on where you fall in that range.
Of course, you don't have to budget for the lifetime costs on the first day you bring your cat home. Still, this should remain in the back of your mind while you're planning. The immediate costs to consider are those that come with the adoption process. Typically, adoptions present the following fees:
Adoption fee: This is directly influenced by the institution you're adopting your kitty from. For example, the Cat Adoption Team charges anywhere between $15-200 for adults and kittens. Other places might be more or less expensive depending on the cat's age and the type of veterinary care they received while in the shelter.

Cost of spay or neuter: These costs vary by age, sex, and the medical condition of the pet. For example, veterinarians tend to charge more for spaying when the female is in heat. However, your chosen adoption shelter may simply choose to avoid the procedure when the cat is in that state. Still, this portion of the cost usually remains around $50-80.

Microchip fee: Microchips are required to ensure your cat will find its way back home if you ever get separated. These are cheap, normally less than $10.
How Long Does It Take to Adopt a Cat?
The timeline for adopting a cat varies heavily. Again, this depends on the specific outlet you've used to choose your cat. For instance, some shelters don't require formal applications. In these cases, you can submit an inquiry online and hear back from the institution on the same day.
In other situations, especially when adopting from smaller groups such as non-profit rescue organizations, you might be required to submit a full application, for which you'll receive a response in a few business days. Often, these processes also require an interview. This might entail over-the-phone correspondence or require that you make an in-person visit.
Some rescue groups may send a representative to your home to evaluate the household and verify its safety for the new cat. If this is the case for you, it can take one or several weeks for you to bring your cat home, as you'll need to schedule the meeting in advance and wait for a final decision on your approval.
Any site that you choose for cat adoption should have the full process outlined on their site. If this is not available, they will clearly display contact details to provide further information on what prospective pet parents can expect.
Welcoming Your New Cat Home
Congratulations! All the logistics are completed, and you've been approved for adoption. Now that you've prepared yourself, your family, finances, and household, your cat is ready to move into its forever home.
Here's what to expect on that big day (and the days following).
Where Should a Cat Sleep on the First Night?
It might not seem like a big deal at first thought, but where your cat sleeps on their first few days in the house is important to their mental and emotional wellbeing. Placing them in a cold, dark corner in the living room is not ideal. Your cat will feel abandoned and terrified of its new surroundings.
However, they might not yet be comfortable enough to sleep in your room or snuggle in the bed with you or anyone else. Please don't push your cat to do this, as it could backfire and cause your newly adopted cat to resent or fear you.
For a kitten, your best bet is to place them in a comfortable cat carrier. This way, they can't get into any mischief throughout the night, and they can feel cozy and secure in their own little space. Line the kennel with blankets or a small cat bed for extra comfort.
If you don't feel comfortable using a kennel, lay a cardboard box on its side and place some blankets inside to offer your kitten a warm hiding spot. New cats will certainly enjoy having a few cat toys and a scratching post to play with and climb on.
On the other hand, an adult cat can be kept enclosed in one room, perhaps with one person to supervise. Cats that can roam freely in the house during their first few nights require even more attention to household safety. In either case, keep a litter box, along with food and water nearby.
Do a sweep of the house and fix any of these issues before you call it a night:
Put away hazardous substances (e.g., food that is toxic to cats, medications, etc.)

Place breakable objects in safe locations

Roll up any curtains that your cat may be tempted to climb up or shred
How Long Does It Take a Cat to Adjust to a New Home?
Just like humans, all cats are different. Because of this, there is no hard and fast rule about how long it might take your new cat to adjust to its new living space. Cats with outgoing personalities might take only a few days to acclimate to their new house. On the other hand, shy ones can take anywhere from a few weeks to several months.
Plus, the timeline for adjustment to your new life together does not only depend on the cat's behavioral tendencies but how often you can spend time together. For instance, someone who works full-time outside the house will have fewer opportunities to sit down and "get to know" their cat. This can be challenging as your cat is learning the ins and outs of living with you.
However, people who work remotely or only part-time will have ample opportunities to pet, groom, and play with their kitty, so they'll likely bond much more quickly. In these cases, the cat will adjust within a short period.
For this reason, it's wise to read up on the cat's personality profile (if it's available) or meet it in-person before you commit to a specific one. You should evaluate your schedule beforehand, too, to make sure you give yourself and your new family member a fair shot at a new beginning.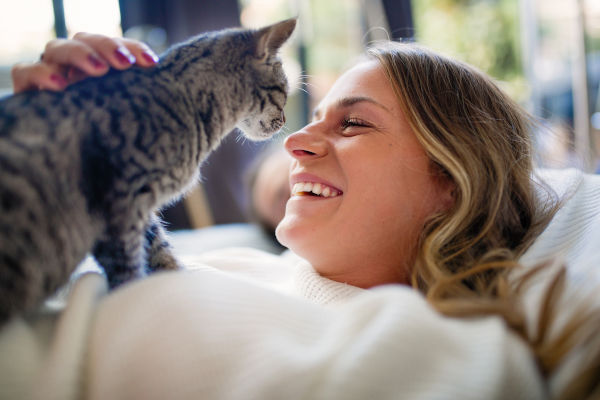 Adopting a cat is a huge milestone that takes lots of preparation and the dedication of your time and money. Although it can be challenging, the investment is more than worth it. With this guide, you'll be prepared to bring your cat to a safe, loving home and ensure a fresh start for the two (or more) of you in their new forever home.



About the Author

My name is Jazmin "Sunny" Murphy, and I am a science communicator and web content writer. Since 2015, I've been producing scientific content that is written in plain English. My love for life science has influenced my professional and academic aspirations since I was a kid. I hold a Bachelor of Science in Zoology and 21 units of a Master's education in Environmental Policy & Management (concentration: Fish and Wildlife Management). You can learn more about me and my science writing and reporting work at my website, Black Flower Writing Services.